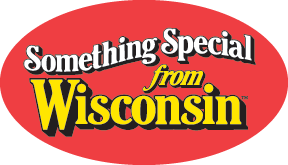 Red Oak Label produces labels for customers all over the United States and beyond, but our core customer base is right here in our home, Wisconsin.
Something Special from Wisconsin™ is a trademarked marketing program administered by the Division of Agricultural Development of the Wisconsin Department of Agriculture, Trade and Consumer Protection, based in Madison, Wisconsin.
Founded in 1983, the Something Special from Wisconsin™ program has helped its members stand out above the rest.  The program logo provides a quick and reliable way to identify genuine Wisconsin products and services at grocery stores, retail outlets, farmers' markets and restaurants throughout the state.  Program members benefit from having a "Wisconsin" brand identity that consumers recognize as top quality and high value. Products showcasing the logo enjoy a strong competitive edge with consumers.  Surveys indicate that over 70 percent of Wisconsin consumers are more likely to purchase a commodity made or grown in Wisconsin than one from outside the state.
Whether you market your products and services locally, regionally, nationally or internationally, the Something Special from Wisconsin™ logo brings recognition and credibility, building upon Wisconsin's reputation for providing the finest products and services available.
Red Oak Label produces Something Special from Wisconsin labels for a variety of companies and products and we are proud to also be members of this great program.
Share: